Careers at Straughan Environmental
We are an employee population that is energetic, talented, and committed to satisfying our clients through high‐quality, high‐value solutions and uncompromising ethics. We believe successful, productive employees create a successful, productive company. We work closely to develop and support employees to reach their full potential and we are proud of the reputation our employees have earned and the high degree of our collective success.


A Great Place to Work
Straughan is very proud to be voted as one of The Baltimore Sun's Top Workplaces for the 5th year in a row!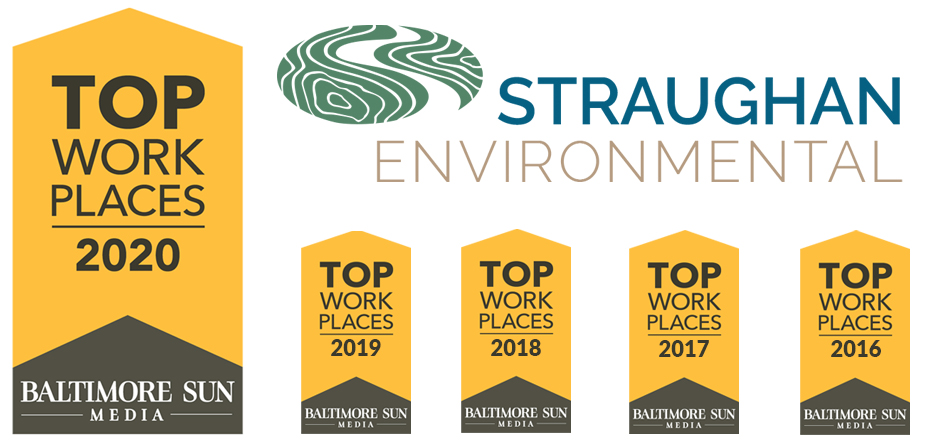 Our vision is a sustainable world and we work every day to create our vision in surprising ways. Whether you are managing one of our multi-million dollar environmental compliance programs for Federal agencies like NASA, engineering an ecological restoration project, working on environmental policy and planning, or identifying wetland plants in the field, each of our employees contributes to our vision of a sustainable world.
Whether you are just starting out or are a seasoned professional, Straughan Environmental is a great place to work! Please check our open positions.
Equal employment opportunity (EEO), Affirmative action, and Diversity and Inclusion policy statement
Straughan is an equal employment opportunity and affirmative action and equal opportunity employer.  Straughan affirms its long-standing commitment to maintain a diverse workforce reflective of the communities in which we operate, maintains a business culture that recognizes the contributions and interests of diverse cultural and social groups, and maximizes employee efforts by understanding individual differences and perspectives.  It is the policy of Straughan not merely to refrain from employment discrimination as required by federal, state, and local enactments, but to take positive affirmative action to realize for women, people of color, individuals with physical or mental disabilities and veterans full equal employment opportunity.  It is also our goal to employ and advance in employment individuals with disabilities and protected veterans, and to treat qualified individuals without discrimination on the basis of their physical or mental disability or veteran status.
Equal Opportunity Employer/AA Minorities/Females/Protected Veterans/Disabled
Straughan Environmental, Inc., ensures nondiscrimination in all programs and activities in accordance with Title VI of the Civil Rights Act of 1964.  If you need more information or special assistance for persons with disabilities or limited English proficiency, contact our office by email at assistance@straughanenvironmental.com.